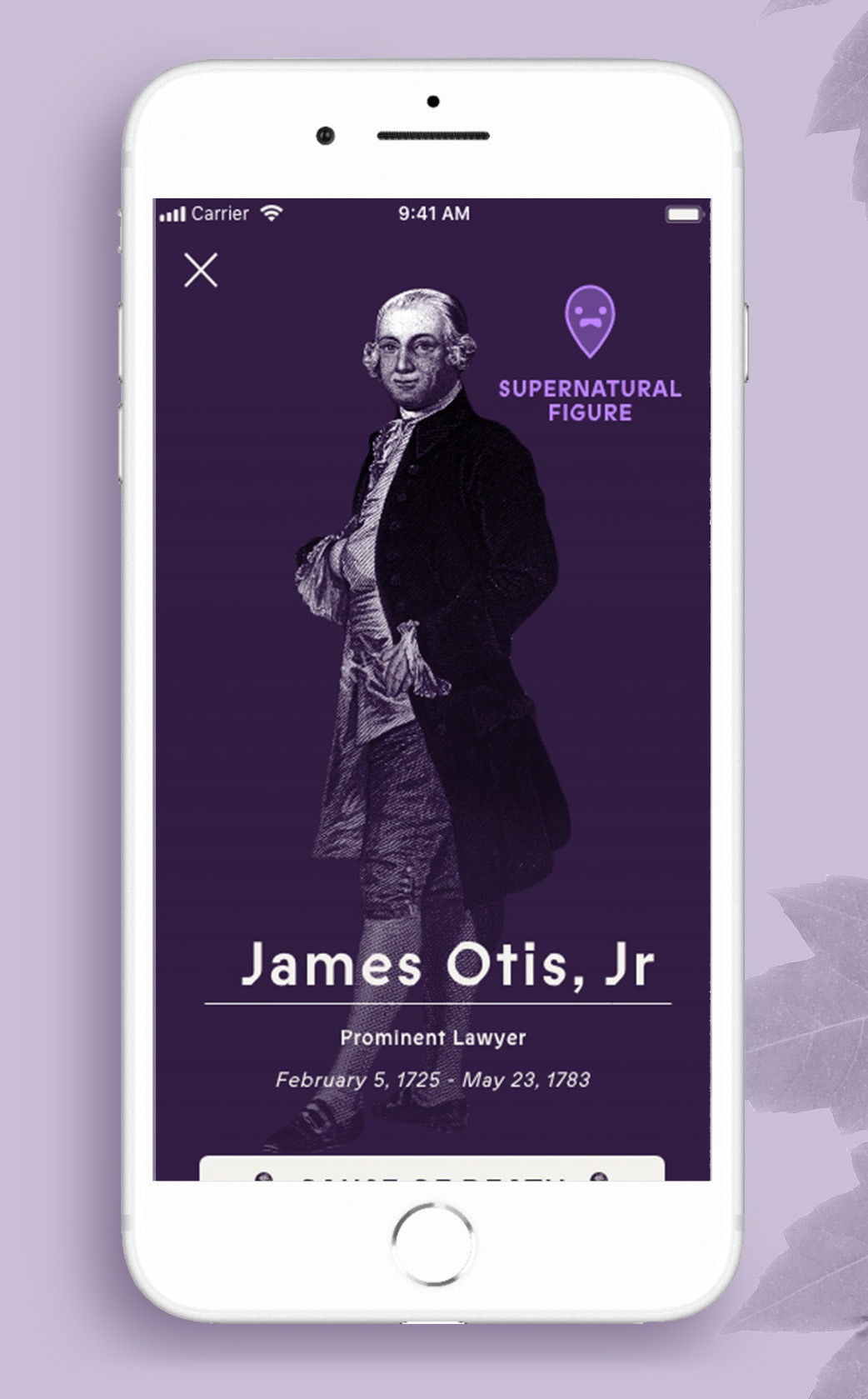 Concept
Living in Boston, I spend a lot of time around historical graveyards. Something always stuck out to me about them: they contain an immense amount of history, but if you don't already know the history, there's limited opportunities to learn about it while you're there. Tours are the most interesting way, but they're not free, and the plaques around the graveyard leave much to be desired.
That's where Grave Guide comes in! It's an app that makes historical graveyards much more interactive by putting history at your fingertips. It also adds an element of fun and supernatural thrill! Augmented reality (best known in Pokemon Go) allows users to walk around the real graveyard, while seeing information overlaid over the top. Gravestones can be tapped for information about a person, and ghosts appear to hover near their graves.
The target audience is 20-35 yr olds with an interest in history or the supernatural.
This is an app concept created as a student at MassArt, and is not a real world product.
Process and Research
In-Person Interviews
I went in person to Granary Burying Ground and interviewed 7 people about their experience in the graveyard. I asked them questions about where they were from, why they chose to visit the graveyard, and what could be improved in their experience. From those interviews, I noticed that even people with prior history knowledge would like to have more information available in the graveyard. I also noticed more interest in supernatural entertainment than I'd expected. I'd originally planned to have the app be totally history focused, but that interest made me open to including the supernatural.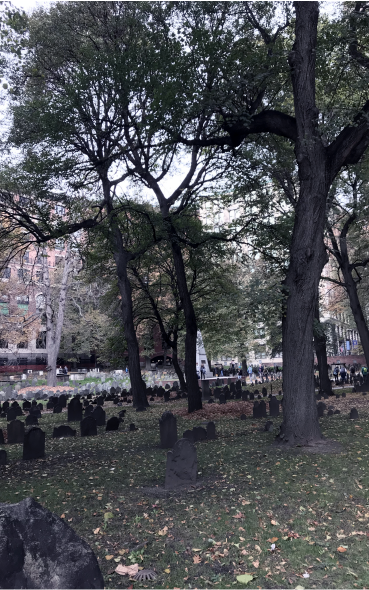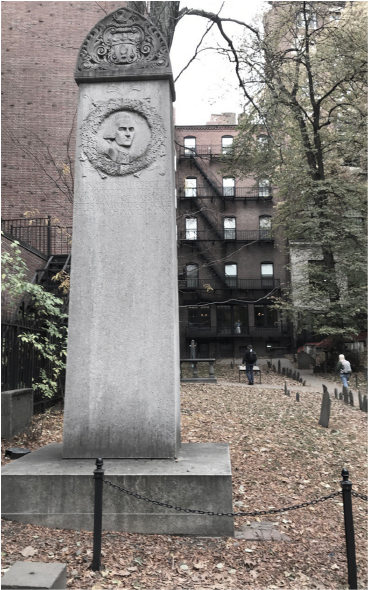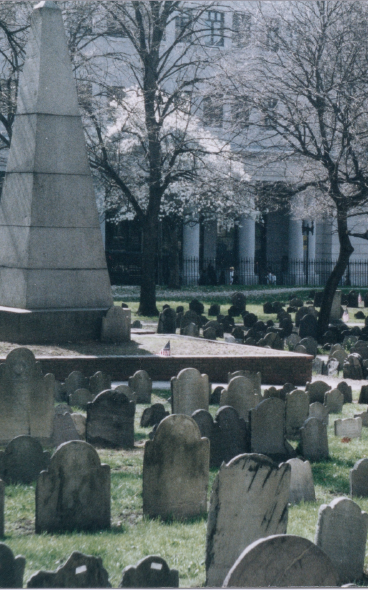 Survey
To supplement the in-person interviews and learn more about people's interest in the supernatural, I made a Google survey. Here of some of the results I got.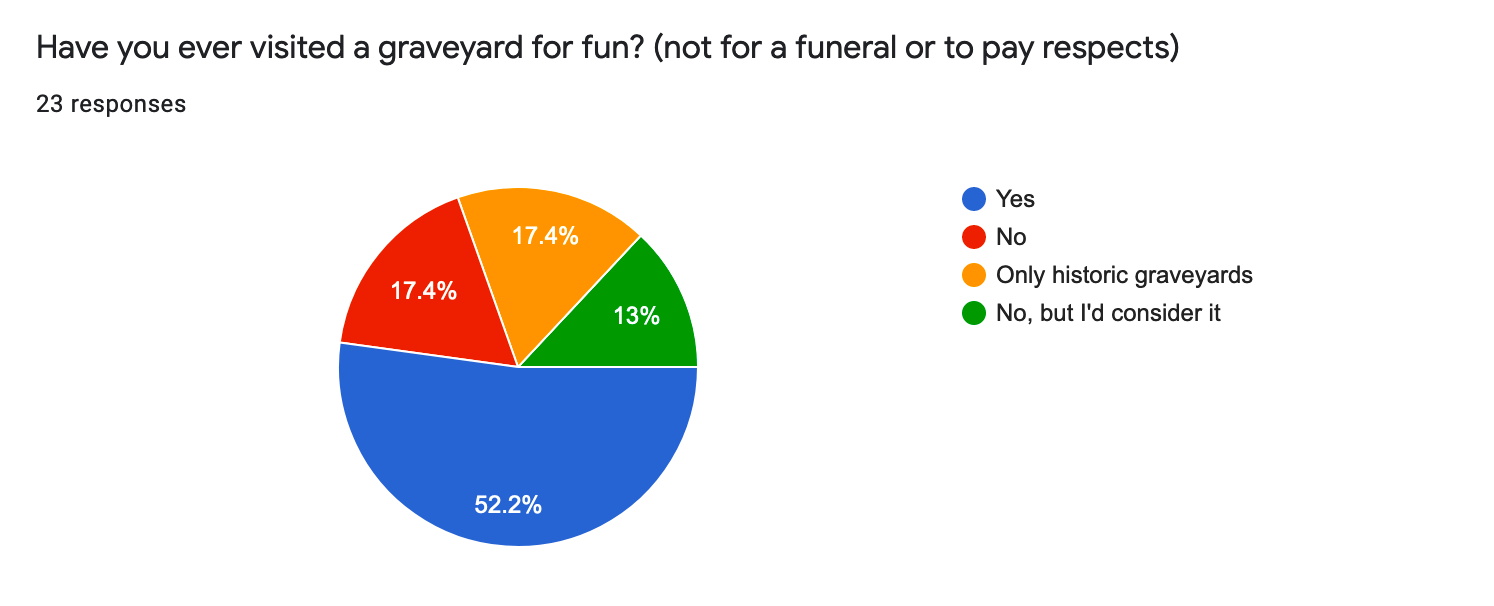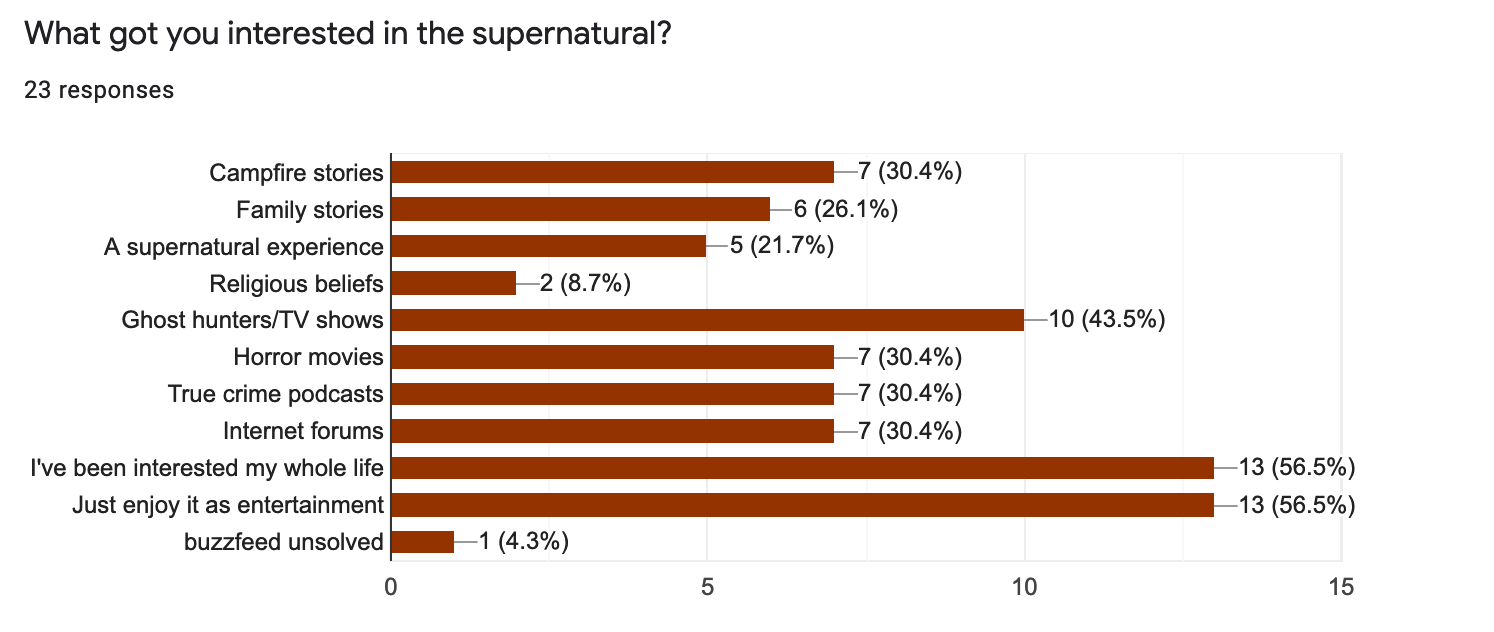 User Personas

I created personas based on what I'd learned about potential users from the interviews. I always kept these personas in mind when designing.
The target audience is 20-35 yr olds with an interest in history or the supernatural.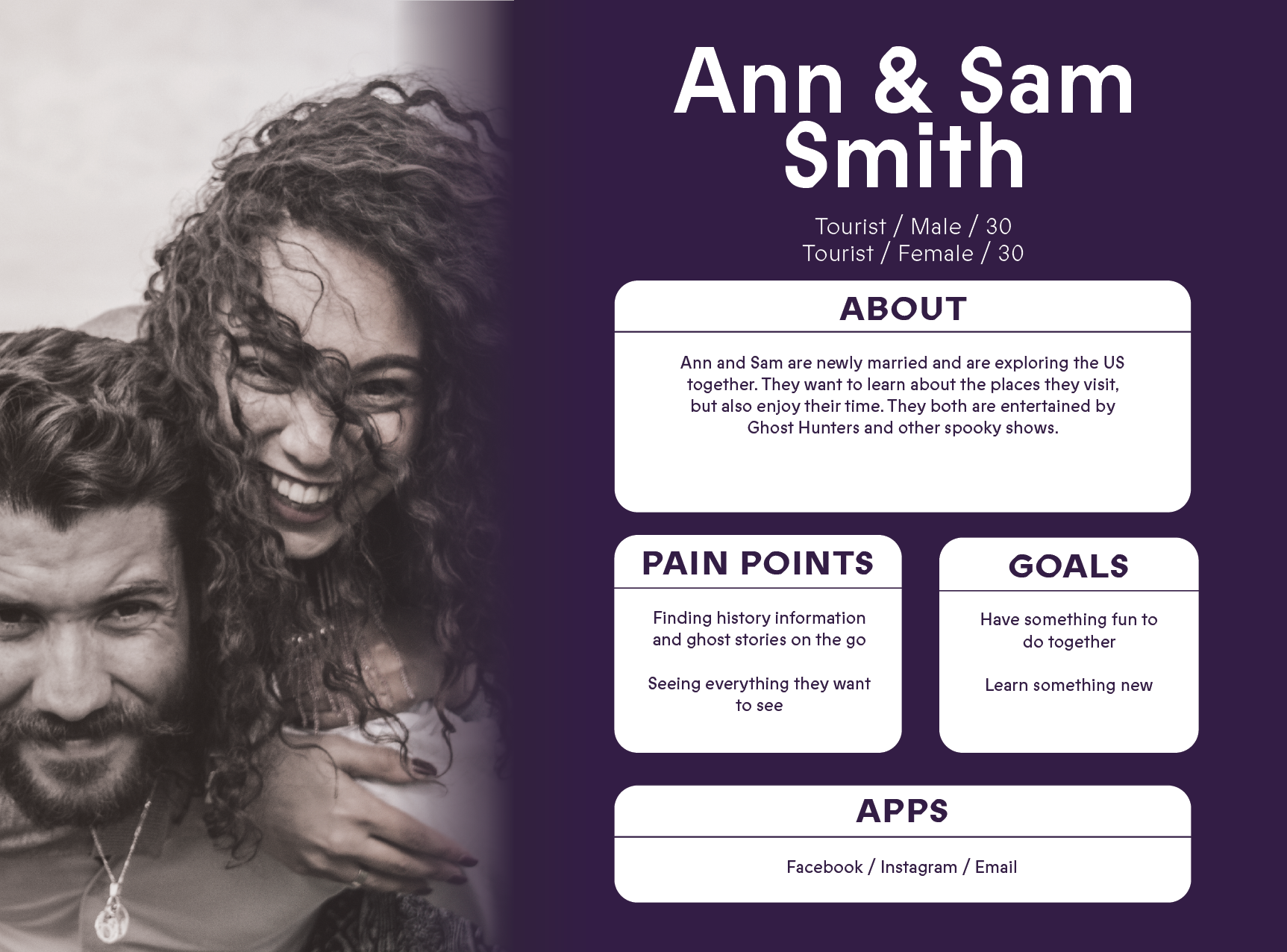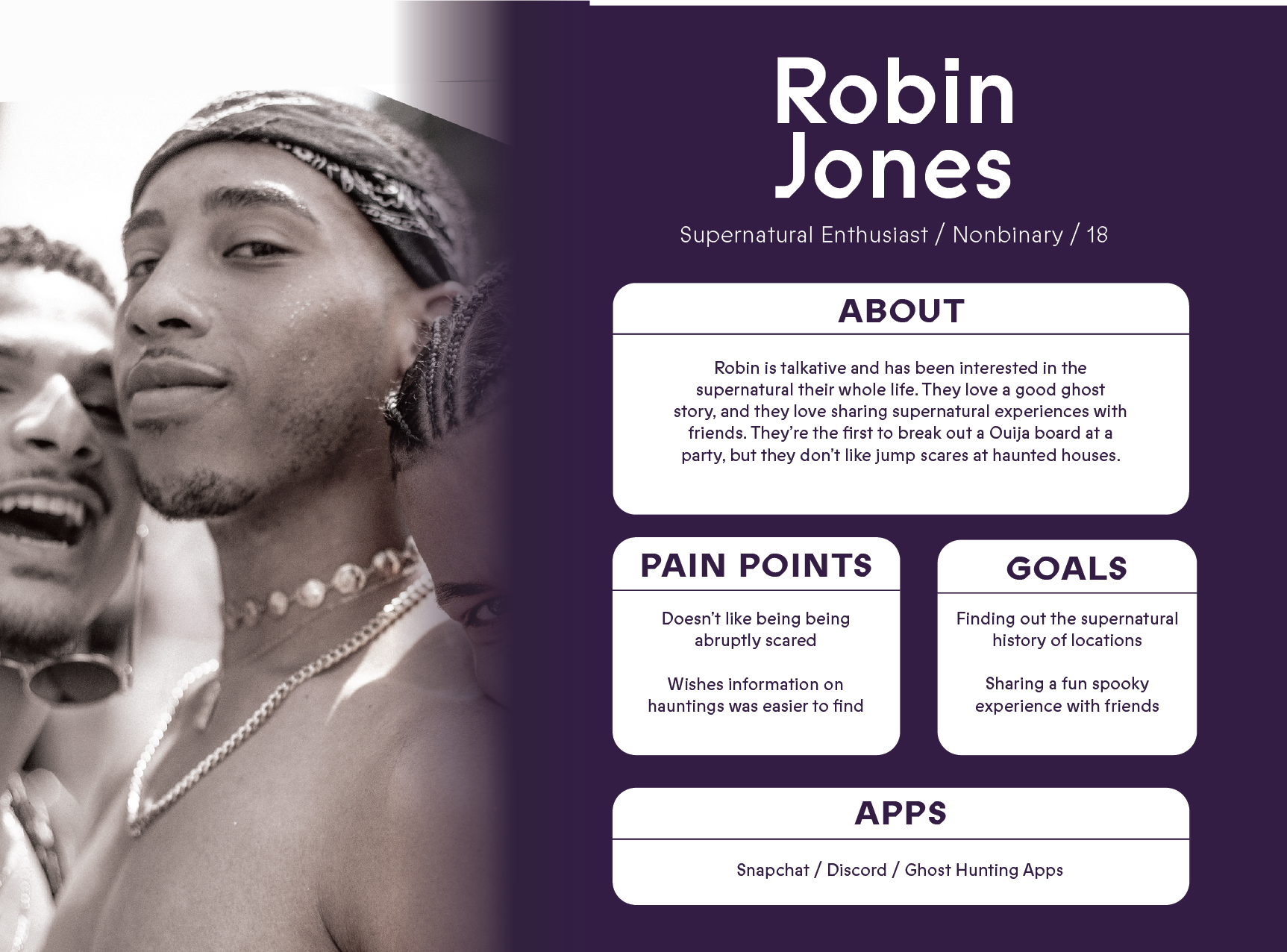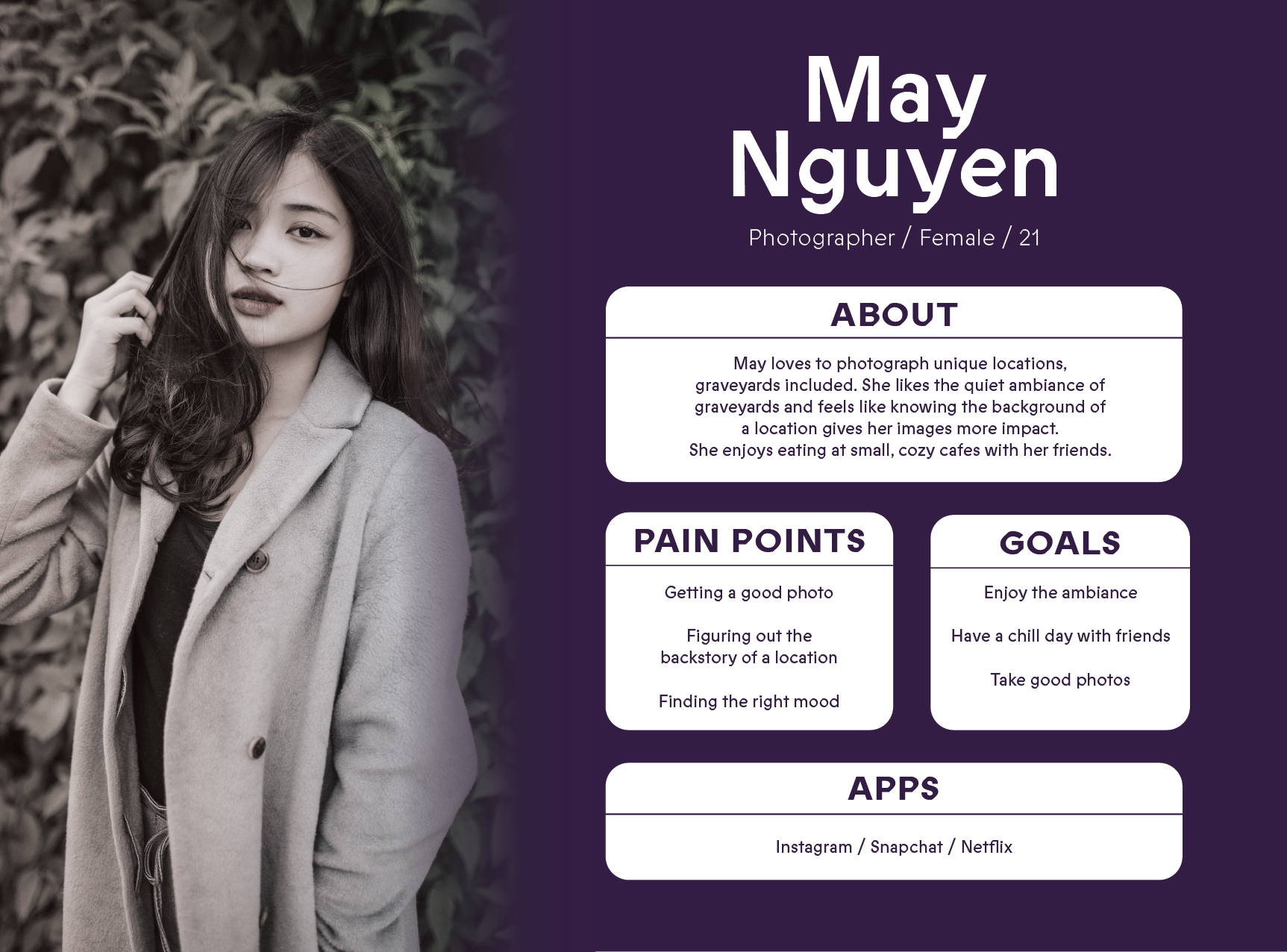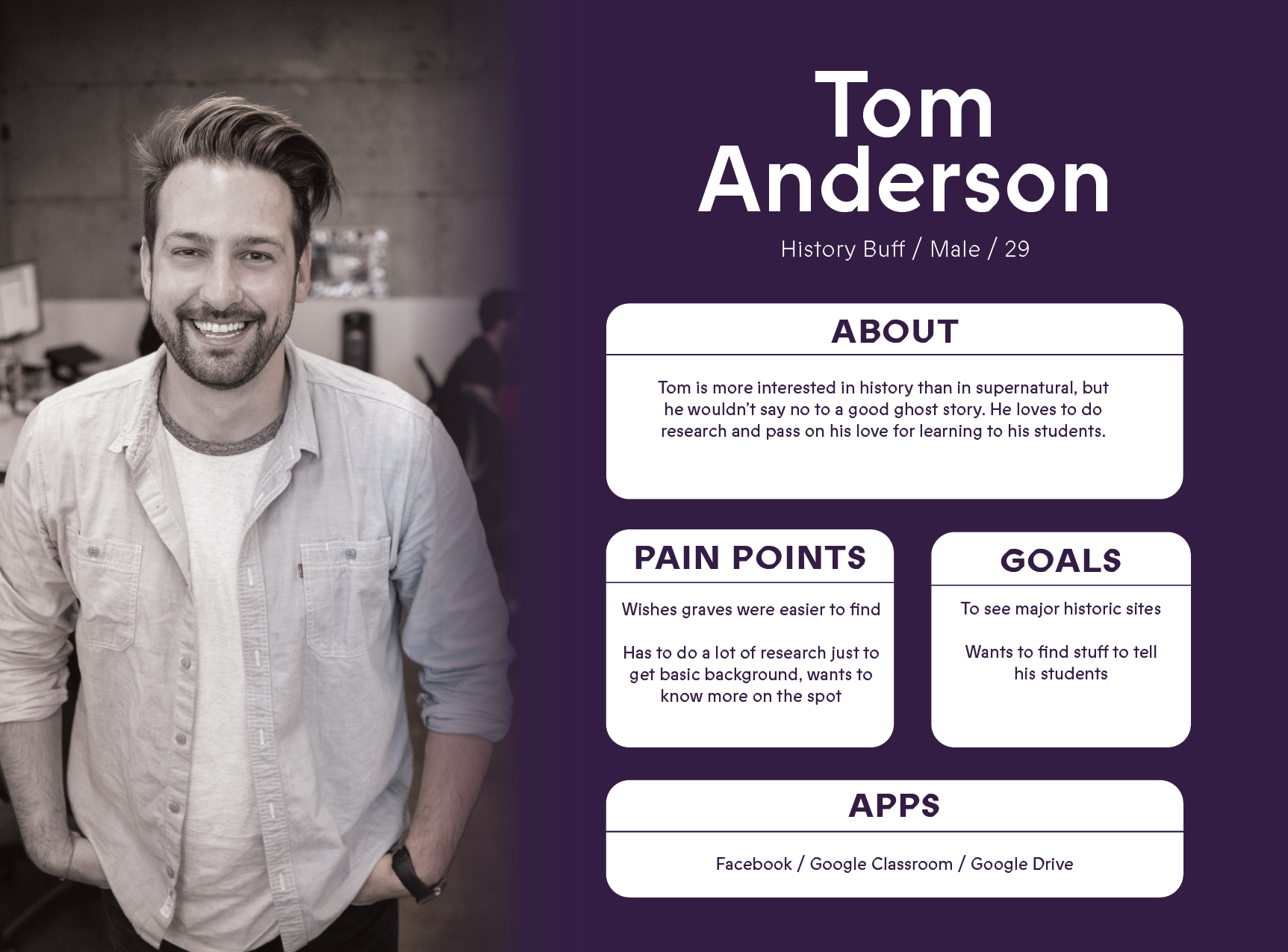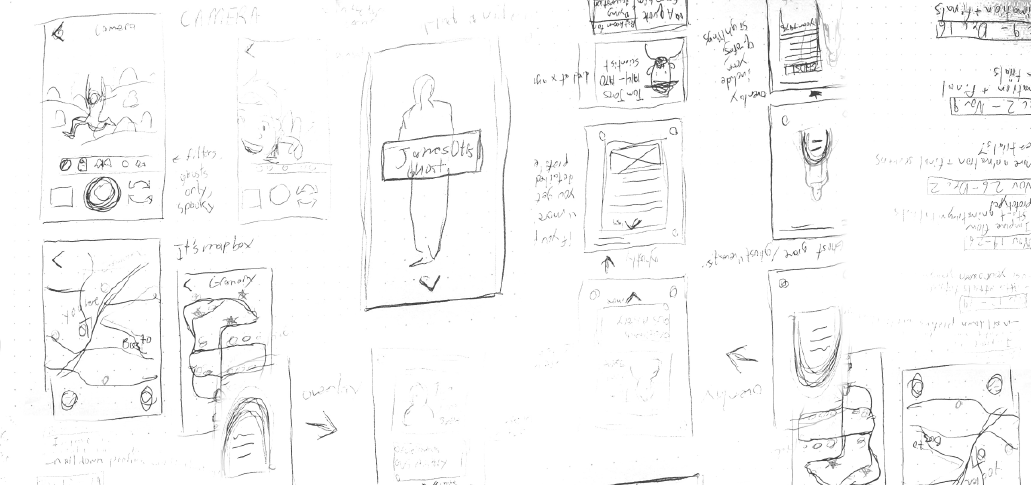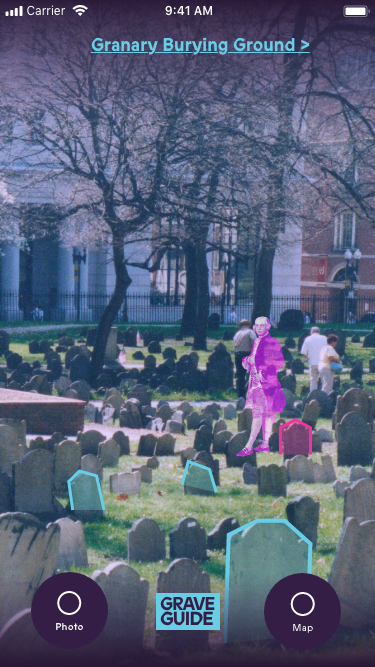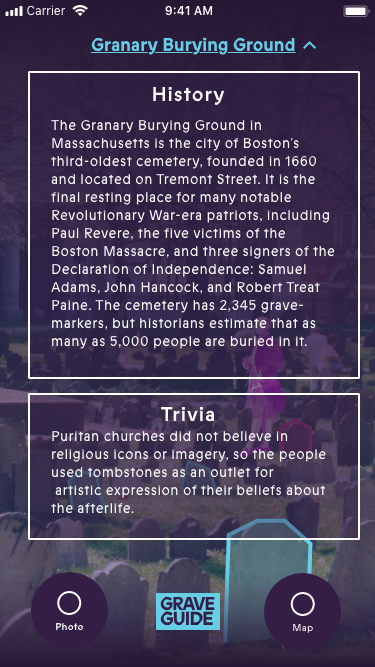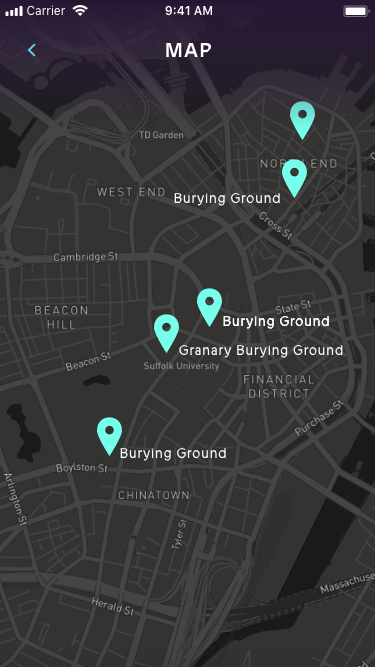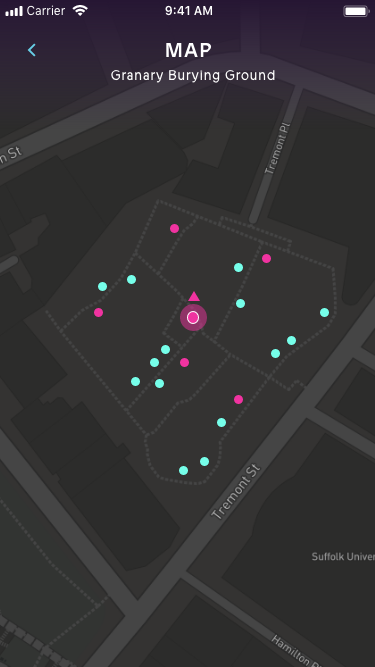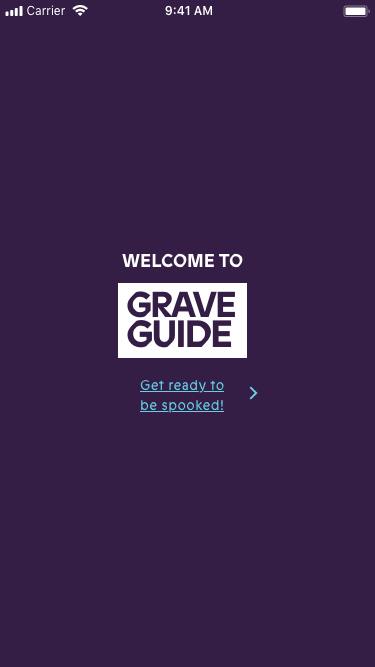 Podcast ad transcript

Podcasts are highly successful mode of advertising, and a good way to reach people with niche interests! Therefore, a podcast ad is well-suited for Grave Guide.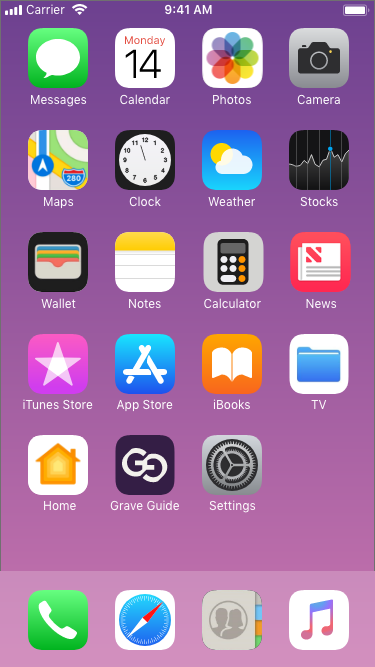 Augmented Reality Animation

This ghost animation simulates what the augmented reality in the app would look like.
Final Walk-through Video
Watch this to see how the app functions! Note: this is a static prototype, the photo in the background of the screens shows a preview of how the app in AR.

Final App Screens
Onboarding Screens
These are what a user would see the first time they downloaded the app. They're asked permission to use their camera and location (for AR) and guided to the nearest historic graveyard if they aren't already in one. Then they're welcomed to the graveyard and given an intro to its history.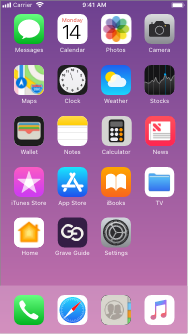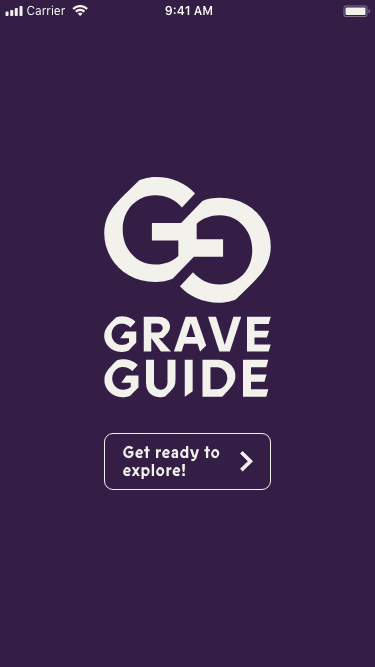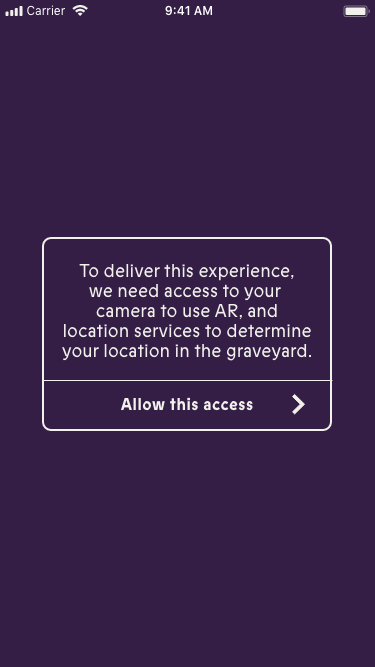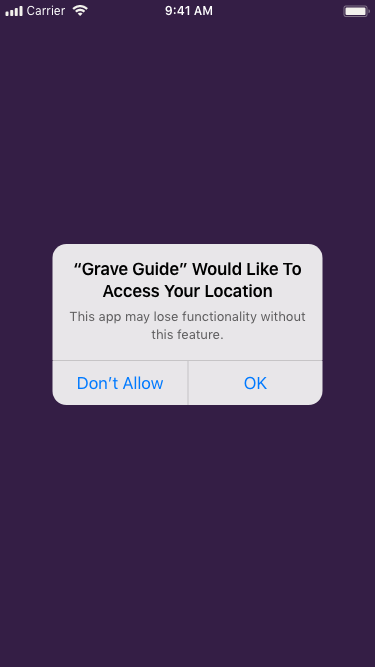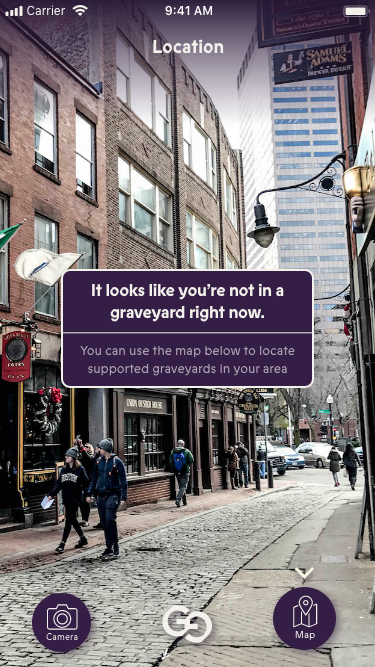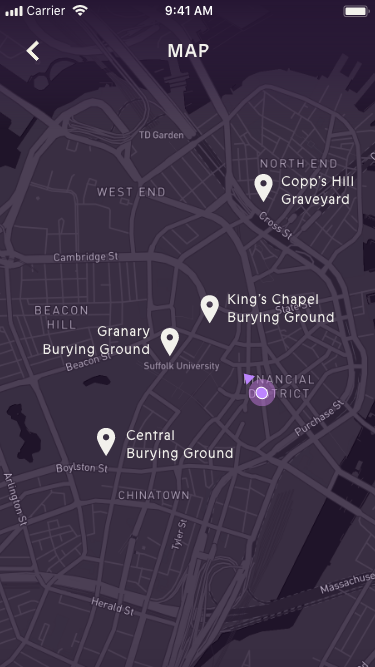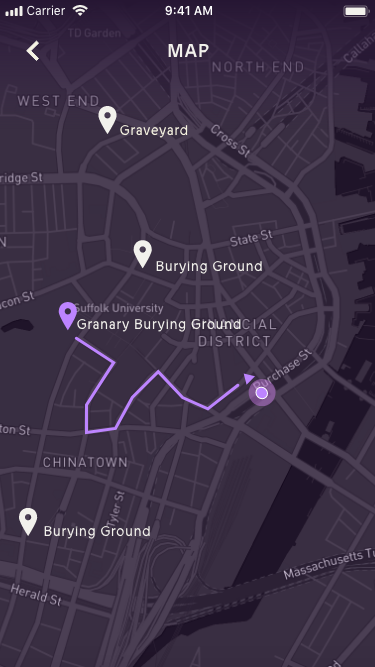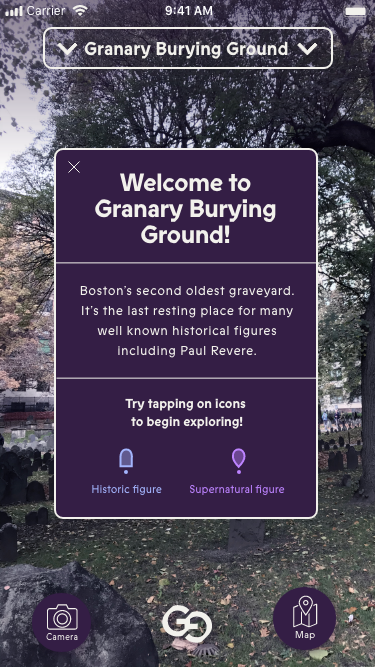 Main Screens
The AR is front and center here, allowing users to explore the graveyard in person. Descriptions, pictures and other media make the experience interactive and in-depth.
Graveyard markers can be tapped to pull up a profile of the person whose headstone it is. These profiles include images and facts about the person, such as "Cause of Death", "Job" and "Trivia".  There's two different types of profiles: Historical and Supernatural. This distinction determines the focus of the persons profile, and whether they can be seen in ghost form or not.

There's a map page where users can see the location of different items in the graveyard, and a camera option where they can have fun and take pictures with historical "ghosts" in the graveyard.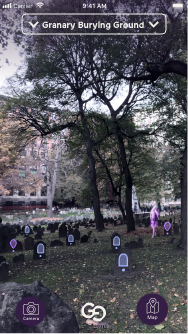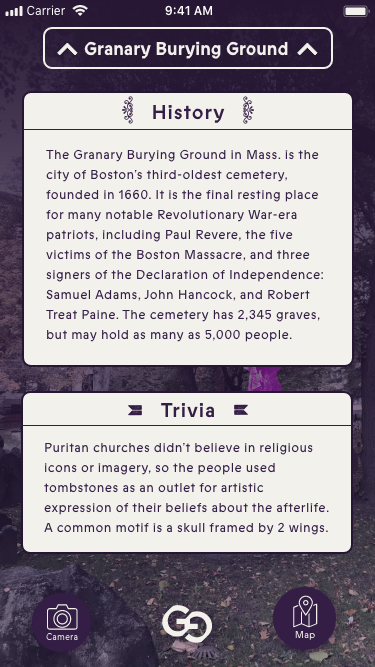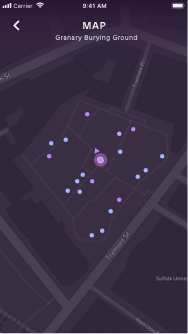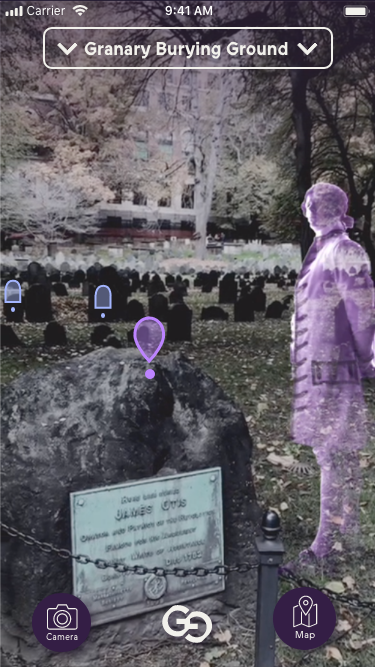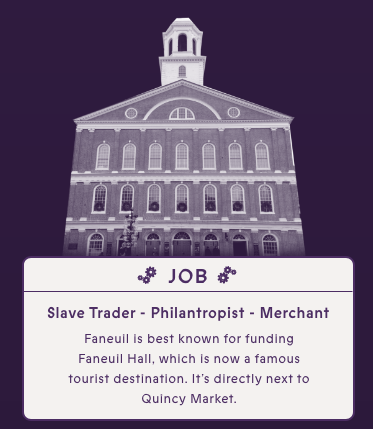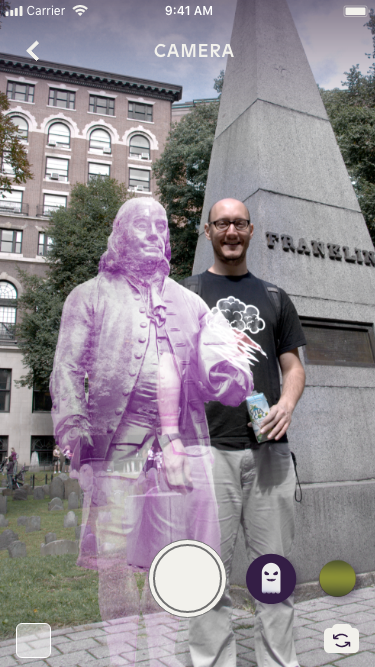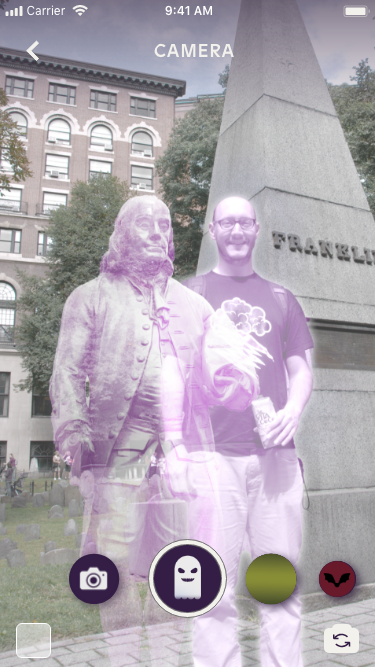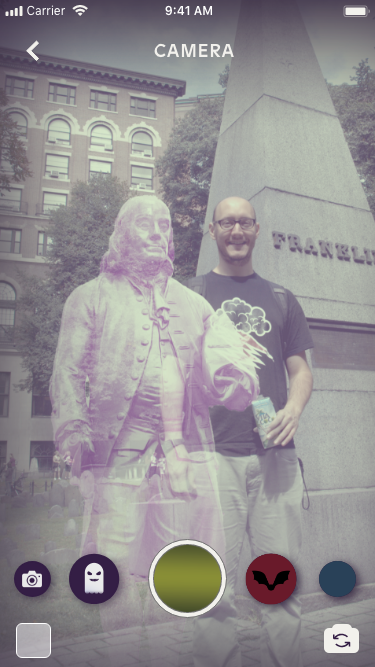 Credit

Main graveyard photos are my own. Other photos, including portraits, are from Austin Distell, Anthony Tran, Brian Kyed, Chermiti Mohammed, Wikimedia Commons, and the open source section of Flickr. Colonial "ghost" in video is adapted from "Getting Dressed in the 18th Centruy - Men" by National Museums Liverpool. Typeface is Prophet.

Project created in Adobe XD and Adobe AfterEffects.

This is an app concept created as a student at MassArt, and is not a real world product.